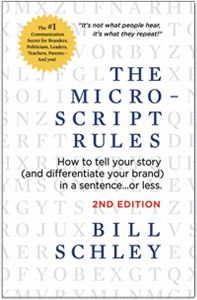 Know how to make 5 words beat 5,000? Or tell your whole story in a sentence of less? For communicators now, it's critical. And the secret's in.
Call it survival of the simplest: That's the bottom line if you're in branding, politics, teaching, a business owner or advertiser – anyone who communicates in this hyper-connected world. Because with 300 billion messages going by each second, we can't break through by delivering more data. Human brains want less. They want to make snap judgments on the least bit of info. They want us to package it for them – in Micro-Scripts. That's why:
A new product seizes 50% of the marketin two years using 7 perfect words.
A lawyer won the murder trial of the century with 8 simple words.
Ernest Hemingway thought his greatest story ever was 6 words long.
The fate of millions was changed by a war, based on a 2 word policy.
A presidential election turned on a 4 word phrase.
Imagine the power of magic words like these on your brand, your career, your website, your business plan. They're not just sound bites.
They're story bites. Written the way we love to remember and repeat. Used by great communicators for 1,000 years. Now they're yours in a smart and entertaining book:
The Micro-Script Rules.