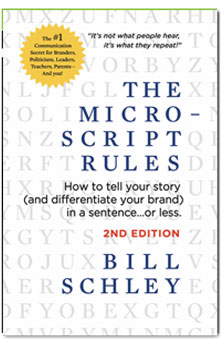 THE MIRCO-SCRIPTS RULES
Second Edition
Today's #1 communication's secret is: It's not what people hear. It's what they repeat. That's why "the right six words will always beat 6,000" when you know which to pick! And it's all here in The Micro-Script Rules: How to tell your story (and differentiate your brand) in a sentence...or less.
"The Micro-Script Rules tells how to verbalize your point of difference—the most important point of all--for advertisers, consultants and candidates." -- JACK TROUT,  co-author of the legendary Positioning: The Battle for your Mind.
THE UNSTOPPABLES
New York Times Bestseller
How to capture the unlimited power of entrepreneurship to spark a successful start-up or revitalize a mature organization by mastering The Big Picture and The Little Picture.
"Finally, a guidebook for entrepreneurs that shows what it's really about—how they make a difference and transform lives by inspiring teams to touch greatness; how they learn to delight their customers most of all."—Fred Reichheld, Bain Fellow, creator of Net Promoter®, and author of The Ultimate Question 2.0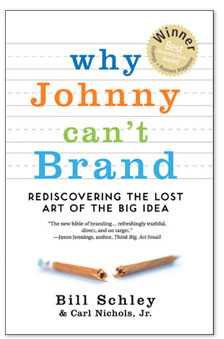 WHY JOHNNY CAN'T BRAND
Winner:
Best Marketing Book
There's a Big Idea waiting inside your brand that can make you #1. How to uncover your Dominant Selling Idea... your superlative difference that makes people reach for your brand.
"... a veritable treasure trove of information that clearly comes from practical brand management career experience rather than ivory tower thinking."